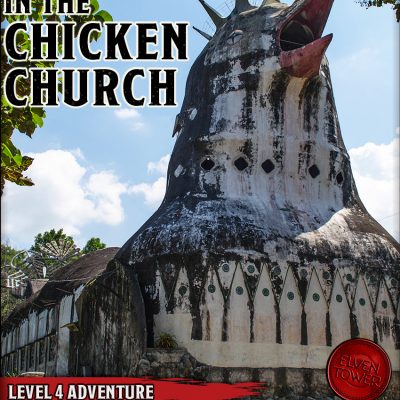 Mystery in the Chicken Church
We have recently released this long-format Adventure that features our three most recent maps. This is a showcase of what the adventure includes. If you are interested in this product, there are three options for you:
Join our Patreon page, we're posted stuff like this all the time

Purchase it directly from drivethruRPG here

Get the freebie version without committing
In Mystery in the Chicken Church, a group of level 4 adventurers takes on a mission investigating the recent disappearances and murders in the forest, near Moe's Winery. Things have gotten worse as time passes and some people believe that the strange chicken-shaped church in the woods has something to do with it. Unknown to all is the fact that an evil cockatrice-worshipping cult calls it its lair. The charismatic cult's leader plans to take over a small town soon.
It is up to a team of valiant warriors to stop the cultists from achieving their ill goals.
Explore fantasy worlds and immersive adventures!
Product Includes
Adventure PDF
Printer-Friendly BW PDF
Separate Hi-Res and Roll20 Maps
Here are some close shots of the adventure PDF spreads:
Get a freebie preview of Krakore's Mirror below
The post Mystery in the Chicken Church – D&D 5e Adventure – Level 4 appeared first on Elven Tower Adventures.
---
Mystery in the Chicken Church – D&D 5e Adventure – Level 4 was first posted on February 23, 2021 at 4:08 pm.
©2017 "Elven Tower". Use of this feed is for personal non-commercial use only. If you are not reading this article in your feed reader, then the site is guilty of copyright infringement. Please contact me at
[email protected]
This post first appeared on Elven Tower, please read the originial post: here