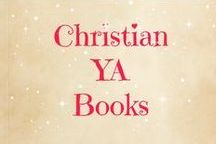 Back in August 2012, Publishers Weekly declared that Christian YA Fiction [is] Coming Into Full-Bloom.
Christian teen fiction is coming into its own these days as sales rise for both digital and traditional books, and as publishers look for the next bestselling series. While Christian publishers haven't found juggernauts that compare to Harry Potter, the Hunger Games, the Inheritance Cycle by Christopher Paolini, or the Twilight series, it's not for lack of trying.

"YA fiction in general is a fast-growing genre," says Don Pape, v-p of trade publishing for David C. Cook. "The YA reader can't get enough story; they're voracious readers whether in hard copy or digital download."
The trend towards YA fiction appears to continue to grow as more Christian publishers develop YA imprints, tween mysteries, and stories aimed at Christian youth. This was obvious at last years' Realm Makers conference. The amount of young-ish, 20-something writers I met who are crafting Christian worldview stories aimed at YA readers was significant. In fact, it's probably accurate to estimate that half of all speculative fiction published by Christian presses (whether trad or indie) is YA. Which is why the Christian site Family Fiction lists almost 500 YA titles.
In a way, this growing trend in Christian publishing is problematic, and symptomatic of the Christian subculture in general. In two ways.
One — If indeed Christian YA has finally come "full-bloom," it's about a decade after the general market did. When I started pursuing a professional writing gig back in 2004-05, the Christian fiction market was aimed primarily at adults. This didn't stop all my writer friends from talking about Harry Potter, Twilight, and the Hunger Games. And how to reach that audience. But, at the time, not only was the Christian fiction market still debating whether Christian books should contain wizards, witches, dragons, and spell-casting, there was no real vehicle to reach the Harry Potter reader. Especially if our books were mostly an attempt to provide an "alternative." About this time, our local Barnes & Nobel rearranged their sales floor to include two entire aisles of YA science fiction and fantasy. While the YA genre was blowing up, Christian writers and readers were busy catching-up. This has left us behind the eight ball in many ways.

Which leads me to point Two — Not only is Christian YA behind the general market trend, it has failed to engage the far more energetic, worldly, broader general market YA audience. Of course, this is a topic of long-standing debate among Christian creatives — Do we write stories to engage the "secular" reader and the cultural zeitgeist, or do we provide "alternatives" for those seeking clean reads with Christian values? Wherever you land on that spectrum, the tension is still alive and well. And totally in the mix when discussing the state of Christian YA.
From the aforementioned PW article:
"Christian publishers walk a tightrope," says Cook's [Don] Pape. "We want to be real and deal with life issues, but also be redemptive and provide a light in the dark. We've had some parents return books because they're dark, but when you look at what kids are into in the real world, you see the tension." [Shannon] Marchese of WaterBrook Multnomah agrees: "There are [Christian market] constraints on how candid we can be with our teen readers. Parents want a good, clean read, but kids are saying that's not what's happening in their lives."

"The biggest question we all face is how far we can go with YA," says Pape. "We have to be true to our Christian values and mission, but we know what the kids are seeing in the media, in film, and in books."
This tension between Christian parents "who want a good, clean read" for their kids and kids who are living in the 21st century, is partly what keeps Christian YA from crossing over. I recently spoke with a publishing insider who also has high-schoolers. They suggested that one of the reasons that Christian YA does not connect with today's youth is that it is written for yesterday's youth. Today's young adults are not the young adults of yesteryear. They pass out dental dams in high-schools now. Today's young adults talk openly about STD's, sexual orientation, gender reassignments, suicide, and school shootings. The spigot of film, music, social media, and pop culture is wide open and shaping the adolescent mind like never before. One reason that Christian YA fiction has a problem engaging the general market YA reader is because Christian culture is disengaged from the broader youth culture.
This is not to suggest that Christian YA can't address cutting edge subjects in a compelling way, but that the expectations of the average Christian YA reader prevents them from doing so. Wanting "clean reads" while growing up in an R-rated cultural can't help but lead to some disconnects. Compounding this cultural disconnect is Christian YA's connection with the Christian homeschooling community. Christian homeschoolers are often a target audience for many Christian YA authors. While many Christian parents do not homeschool their kids as a way to cloister them from "worldly" influences, some do. For many of these parents, Christian YA is the official alternative to secular YA. This is why you'll find many Christian YA authors cultivating connections with Christian homeschool groups. In fact, I know of an organizer of a readers' choice award who privately bemoaned the fact that one particular YA author has such a significant, active homeschool following that they are often able to game the system in this author's favor.
I realize that there are some Christian YA authors who have crossed over and maintain a vibrant general market platform. (For example, I was encouraged to see Enclave Publishing recently begin distributing Canadian author R.J. Anderson's YA fairy tale series, a series first sold in the general market.) Nevertheless, I want to suggest that there are several reasons why this is not the norm. The two reasons why Christian YA doesn't connect with general market readers are 1.) The cultural lag between general market trends and Christian market trends, and 2.) The disconnect between youth culture as it is and how Christians wish it would be.
Order Cheap Actos Online , Order Dilantin , Discount Ventolin Online , Jelly ED Pack (Viagra Oral Jelly + Cialis Oral Jelly) , Find Daily Best Cats Fish , strep throat , Discount Extreme Detox Online , Order Discount Lipotrexate , Order Orgasm Enhancer COD , Find Carisoprodol Online , Buy Discount Extreme Detox Online , Order Voltaren , levonelle , Find Cheap Hairball Relief Plus Cats Online , Order Cheap Florinef Online , imatinib , Find Famvir Online , Order Cipro , Folic Acid (Vitamin B9) , Order No RX Penis Extender Starter , Find Discount High Absorption Magnesium , Buy Discount Mexitil Online , Order Discount Alco Screen 02 Alcohol Test Online , Order Discount Famvir Online , Cheap Alesse Online , Find Discount Anabol-AMP , Buy Discount Nimotop , Buy Cheap Antiox Dogs Online , Perindopril , ultrase , Order No RX Benfotiamine , Order Vibramycin , Find Cheap Sustiva Online , Breast Enhancement Gum Free Delivery , converten , Free Avandia , Buy Discount Anabolic Fusion Online , Find Discount Revia , No RX PyruVitol , Order No RX Lincocin , NO RX Vitamin A & D , Vermox in Canada , Buy Amoxil in Canada , zegerid , Gentamytrex , Order Cheap Calming Chews Cats Online , euthyrox , triglycerides , Find Azulfidine Online , Find Seroquel COD , Viagra Online Review , Order Discount Diabecon Online , Buy Discount Zerit from Your Trusted Online Supplier , Is Viagra Dangerous