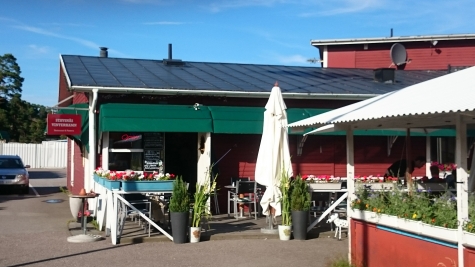 When we took our shopping trip to Gustavsberg recently, we had some time to kill in Stavsnäs. Over the past couple of years, there have been a few additions to the little bunch of shops at the harbour.
One of those was a

pizzeria

. We stopped in and were the only customers. (In fact, I think we were the only people at the whole harbour early on a Wednesday afternoon.) Sooz and I spoke with George, the charming young man behind the bar. He's probably close to Grant's age, and he's attending university. It turns out he was the owner!
George's Family moved to Sweden from Serbia a generation ago from a family of restauranteurs. He bought and re-opened the pizzeria two summers ago. We talked about their business, and as you'd imagine, the summers are busy, and the winters are very, very quiet. Most of the off-season is just take-away pizzas for those people who live year-round in the Stavsnäs area.
We will certainly stop by George's restaurant whenever we get a chance. I want to support him and his local business as much as we can.