Concrete resurfacing has become a go to choice for many treatments around the home.
You can find practical and awesome ways to use concrete resurfacing on your property to create truly memorable, comfortable settings.
In this article, though, we want to focus more on the outdoor uses.
Now, you can argue that epoxies are great, but not for outdoor usages.
This was not far from reality 20 years ago.
When the epoxies were synthesized back in mid-1930's, it was obvious that the epoxide group will cause the resin to be vulnerable to UV light.
As a matter of fact, there are widely used in the areas that has little to no exposure to light, such as tanks, pipes and even your garage!
But things are quite different today.
Epoxy resin has come a long way to reach a state that it can be safely advised to be used for outdoor purposes.
There are a number of outdoor grade epoxy resins, which are absolutely UV-resistant.
This has made them a perfect choice for outdoor flooring.
For one thing, epoxy releases no toxins that can potentially harm you or your family.
They can come as an environmentally friendly solution, if they are either 100% solid or water-based.
You might argue that tiles are the same, at least in this matter.
Well, epoxy flooring has some other advantages, which tiles are not able to provide.
Several stone designs and a vast variety of colour options are available.
Also, epoxies are resistant to different sort of chemicals which tiles are not.
To top off it all, the price is comparable with other flooring solutions.
Now, this will explains why they are popular.
They are fast becoming the floor of choice for many designers seeking new and adaptable flooring options.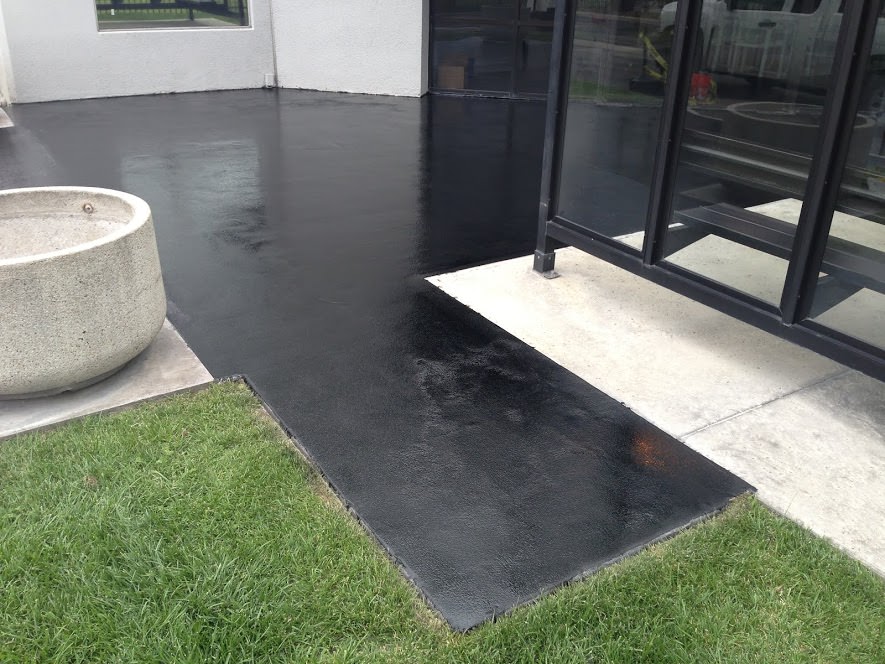 Versatile epoxy floors are ideal for both indoor and outdoor use in a variety of places.
They add beauty to any landscape and make it extremely durable at the same time.
Some of the places where epoxy is most commonly used for outdoor uses include:
Porches/Steps
Pool Decks
Sidewalks
Entrances
Driveways
Let us explore some of these outdoor uses:
Front Yard and Driveway
The way people approach your home is the first impression they will have of what to expect within.
You want people to feel welcome and also to be able to find a clear path to your front door.
Creating a stunning walkway to your front door is easy with concrete resurfacing.
You can enhance the look of your home as well as offer a safe and clear path to your home.
Easy to clear and safe to walk on, these walkways say welcome.
You can continue the look of your walkway onto your driveway for a perfectly cohesive look, enhancing your home's curb appeal.
Backyard and Pool Side
You can bring drab patios back to life with concrete resurfacing.
The wide variety of finishes will allow you to create lovely surfaces to entertain, enjoy quiet evenings and just relax with family and friends.
Because concrete resurfacing comes in a number of safe finishes you can opt for a non-slip treatment perfect for poolside.
Continued throughout the backyard, wet feet will be less likely to cause trouble if puddles are leaving a trail across your patio and into your home.
Garages and Sheds
If you use your garage or shed for more than parking the car and storage then having concrete resurfacing will help you create a user-friendly environment to work and even entertain.
Garages are quick becoming a "man cave" favourite and you can create a great place to entertain friends, watch the game and relax.
Sheds can become less unpleasant for potting plants, working on hobbies or even just an overall neater look for your storage area.
Concrete resurfacing is affordable, attractive and safe, perfect for use outdoors. You can create wonderful spots for outdoor enjoyment as well as raise the value of your property.
Non-slip flooring
Epoxy floor coatings are ideal for pools in the backyard.
These areas are more prone to slipping due to water, and this can be quite dangerous.
The best solution that we have found is for the property owner to employ an outdoor grade epoxy paint to cover the slip area..
The good news is that this floorings is extremely versatile in nature.
So, not only it will tackle the slipping issue once and for all, it will provide the owner with a glamorous shiny look for the pool, which is a big plus.
The other common outdoor surfaces that need special and protective coating are pool patios.
This is due to a number of reasons.
The combination of intense UV sunlight, water, outdoor debris and foot traffic – all add up to weaken the concrete surface surrounding a pool.
Thus, epoxy coating will help to overcome these problem.
In fact, epoxy coating can adapted to be non-slip in any outdoor setting where water spillage is an issue.
Not only they are extremely durable, but also, it can UV protect the patio area to avoid fading and discoloration.
Exterior Decorative Coatings
Epoxy flooring is versatile in its design.
Its versatility in usage is already well known across different settings around the world.
So, naturally designers has started to use it for its wonderful diversity.
It works well for spaces outside and around the house that need different types of finishes such as matte or high polish, or even textures like stone details.
The flooring can also be tinted to suit any décor.
There are a number of different types of exterior finishes in epoxy that add life and beautify to any surface, be it at home or business.
Epoxy is excellent for almost any outdoor application.
These exterior finishes are available in a wide range of color, design, and texture choices, while offering long lasting and brilliant color and appeal.
It is suitable not only for your pool deck and patio, but also for your front steps, walkway, and driveway.
There are several exciting alternatives to consider.
Pick the most suitable one with professional assistance and you will never regret your decision!
Advantages of Using Epoxy for Outdoor Flooring
Ask any property owner to tell you about their issues.
They know how soon in a less than couple of years your nice and smooth concrete surface de-shapes into an ugly, stained and cracked look.
Walkways and garage are two examples.
These areas are constantly subject to wear and tear.
There are blends of specially formulated epoxy with UV resistant additives in their formulations that can be applied over existing concrete.
They are not at all costly!
More importantly, you can save yourself the messy process of getting the concrete removed.
Renowned for both its durability and strength, epoxy is the ideal flooring solution when it comes to protecting those outdoor surfaces.
Additionally, they are under attack from elements even if they are made of the sturdiest of concrete, granite or even stone.
Concrete walkways and porches look more elegant and sophisticated when epoxy is used.
There are a variety of colors and styles available.
It further enhances the beauty of the outdoor landscape and offers a few more additional benefits.
Affordable, industrial grade, high quality epoxy also protects the surface from foul weather and spills.
These are ideal for patios, pools, decks or outdoor carports as discussed earlier.
There are different epoxy coatings that are specially designed to fortify and stabilize your outdoor pool surface.
The surface can be made of single/different materials.
There are single and two-part epoxy systems that can be applied on concrete, granite and stone surfaces to create awesome, non-skid finishes that stand the test of time and also look great.
Additional Options Available for Outdoor Epoxy Flooring
There are unique surface epoxy kits available.
These have several uses, including improving steps, garages and stone walkways.
They can also be tinted.
This tinting enables the epoxy to match the exact color of the original shade.
It is very easy to use. Epoxy flooring can transform any drab surface into professional looking stone masonry.
Opt for it if you want high quality stone and granite looks on floors, walls and columns.
Interlocking tiles is another option for pools, decks and patios.
These are not only 100% weatherproof, but also not as slippery as stone or granite.
It is a safe and secure flooring system.
These areas are usually paved with porous stones, wood beams or tiles.
Non-slip, water-based sealers and acid stains are available.
These can be combined with epoxy to simulate, enhance and protect their appearance with a natural design without laying individual pieces.
The 'waffle backer' design in epoxy dries easily around pools, Jacuzzis and hot tubs.
It prevents slips, skids and falls on wet surfaces.
This makes your pool area and patio safer for kids and older adults besides providing a beautiful and professional looking finish.
Today's epoxy floors have also truly graduated to a more sophisticated level of design even for the outdoors.
You actually have more creative freedom.
You can have an outdoor floor that maintains a natural appearance that complements its surroundings.
Forget about marble, stone, wood, and other natural materials. Combine different colors or decorative flecks of epoxy using different techniques to spread the paint throughout the surface.
Create a unique effect with non-repeating textures.
Only For Australian users
If you are living in Australia, there section is yours to read!
There are a number of solutions out there in the market that are available to you.
We have used Hychem resins for the past 10 years and they have been trustworthy.
The price is compatible with big brands like Dulux and Sika, while the quality is superb.
So we recommend the following solution if you are after a good one.
Hychem Polyglaze NY
Polyglaze NY is a tough, flexible sealer that provides a clear non-yellowing finish to concrete and epoxy coatings. It has excellent abrasion, scratch and stain resistance.Polyglaze NY is ideally suited as a finish coat to seamless epoxy flooring. It contains UV absorbers which help protect the epoxy undercoats from UV light and thus reducing the yellowing tendencies of epoxies upon exposure to sunlight or other UV sources. Polyglaze NY produces a gloss finish which is resistant to outdoor exposure, making the product useful as a topcoat for water based epoxy coatings such as Hychem WE90 in outdoor environments.